Pre- and Postoperative Evaluation of Operated Myoma Uteri Patients: a 5-Year Tertiary Care Experience
Keywords:
Leomyoma, hystrectomy, myomectomy, hysteroscopy
Abstract
Introduction: This study aims to evaluate the pre- and postoperative outcomes of myomas operated in a tertiary clinic.
Method: We retrospectively evaluated data from a total of 378 cases operated for myomas between January 2014 and December 2018 in the Dicle University Medical Faculty Obstetrics and Gynecology Clinic.  
Results: There were 169 cases of abdominal myomectomy (44.7%), 156 cases of total abdominal hysterectomy (41.3%), 15 cases of laparoscopic myomectomy (4%), 13 cases of total laparoscopic hysterectomy (3.4%), 12 cases of myomectomy during cesarean delivery (3.2%), 9 cases of hysteroscopic myomectomy (2.4%), and 4 cases of vaginal myomectomy (1.1%). Pathology results revealed 341 cases of leiomyoma (88.2%), 32 cases of concomitant leiomyoma and adenomyosis (8.4%), and 13 cases of STUMP (3.3%). There were 5 cases of intraoperative bowel injury, 1 case of bladder injury, and 1 case of postoperative wound infection.
Conclusion: Myomas can be surgically treated with satisfactory outcomes and low complication rates. The preferred surgical treatment will majorly depend on the patient's fertility expectations.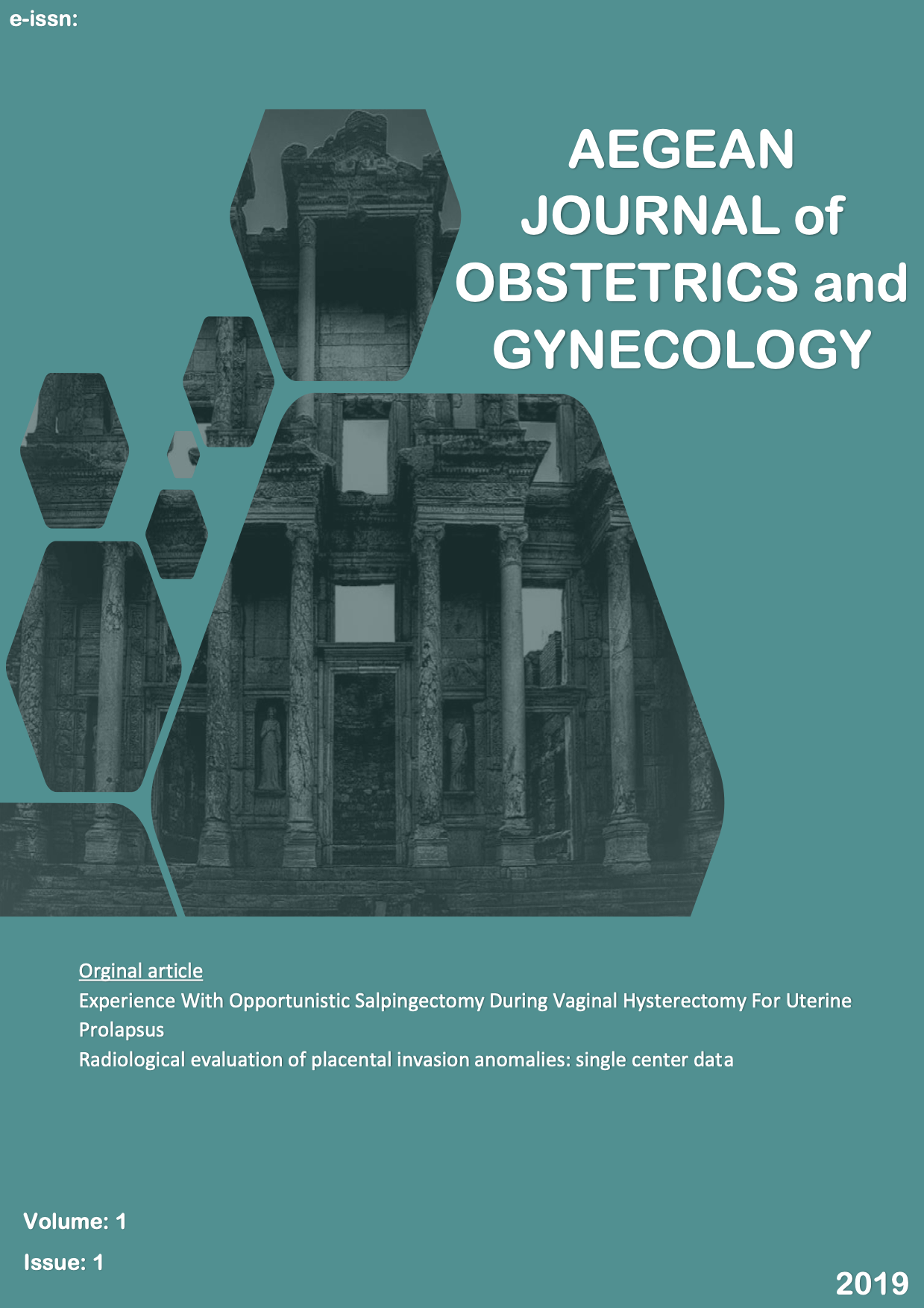 Downloads
How to Cite
1.
Budak H, Buğday R, Budak M Şükrü, Yalınkaya A, Budak A, Gül T. Pre- and Postoperative Evaluation of Operated Myoma Uteri Patients: a 5-Year Tertiary Care Experience. Aegean J Obstet Gynecol [Internet]. 2019 Dec. 29 [cited 2023 Dec. 4];1(1):8-12. Available from: https://aejog.com/index.php/aejog/article/view/12
License
AEJOG is an open-access journal which means that through the internet; freely accessible, readable, downloaded, copied, distributed, printed, scanned, linked to full texts, indexed, transferred to the software as data and used for any legal purpose, without financial, legal and technical obstacles. The only authority on reproduction and distribution and the sole copyright role in this field; has been given to authors therefore they can have control over the integrity of their work, so that they are properly recognized and cited. This is in accordance with the BOAI definition of open access.
The content in Aegean Journal of Obstetrics and Gynecology (AEJOG) is protected by copyright. All copyrights of the submitted articles are transferred to the Aegean Journal of Obstetrics and Gynecology within the national and international regulations at the beginning of the evaluation process. Upon submission of their article, authors are requested to complete an assignment of copyright release form. Authors should acknowledge that they will not submit their manuscript to another journal, publish in any other language, or allow a third party to use the article without the written consent of the Aegean Journal of Obstetrics and Gynecology. When an article is published on AEJOG, it is read and reused for free as soon as it is published under a Creative Commons Attribution-NonCommercial 4.0 (CC BY NC 4.0) license. In case the article is rejected, all copyrights are given back to the authors.
The content of the article and all legal proceedings against the journal, if any, are the responsibility of the author. In addition, all financial and legal liability for the copyright of the presented tables, figures and other visual materials protected by law belongs to the authors. It is the responsibility of the corresponding author to report authors scientific contributions and responsibilities regarding the article. In case of any conflict of interest, it is the responsibility of the authors to indicate the conflict of interest in the Disclosure part of the article. Author names will be published as they are listed on the submitted Title page.