Acute appendicitis in pregnancy; A single center experience
Appendicitis in Pregnancy
Keywords:
appendicitis, pregnancy, ultrasonography
Abstract
Objective
Appendicitis is the most common cause of extrauterine acute abdomen during pregnancy. There are scoring systems, such as Alvarado, based on physical examination and laboratory values developed for the diagnosis of appendicitis in the general population. However, when it comes to pregnant women, the effectiveness of the methods used in daily practice decreases considerably. In our study, we aimed to share the data of our patients who were diagnosed with acute appendicitis during pregnancy in our clinic.
Material methods
Pregnant women who were operated for acute appendicitis between April 2008 and May 2021 were included in the study. Demographic data of the patients, gestational week, physical examination and laboratory values at the time of admission, USG findings, type of surgery performed, surgical findings, pathology results and fetal-maternal complications that developed during postoperative follow -up were reviewed retrospectively through the hospital system.
Results
From the clinicopathological features of the patients, only re-operation due to appendiceal stump leakage (p:0.04) and drain placement during operation (p:0.046) were significantly associated with miscarriage. Although complications and abortion rates were higher in patients with perforation and periappendicular abscess, the difference was not statistically significant.
Conclusion
Detailed history and physical examination are key for the diagnosis of acute appendicitis in pregnant women. Any patient with right lower quadrant pain, nausea, vomiting and fever, who has tenderness and defensive rebound in the right lower quadrant on physical examination should be considered as appendicitis after obstetric causes are excluded, until proven otherwise.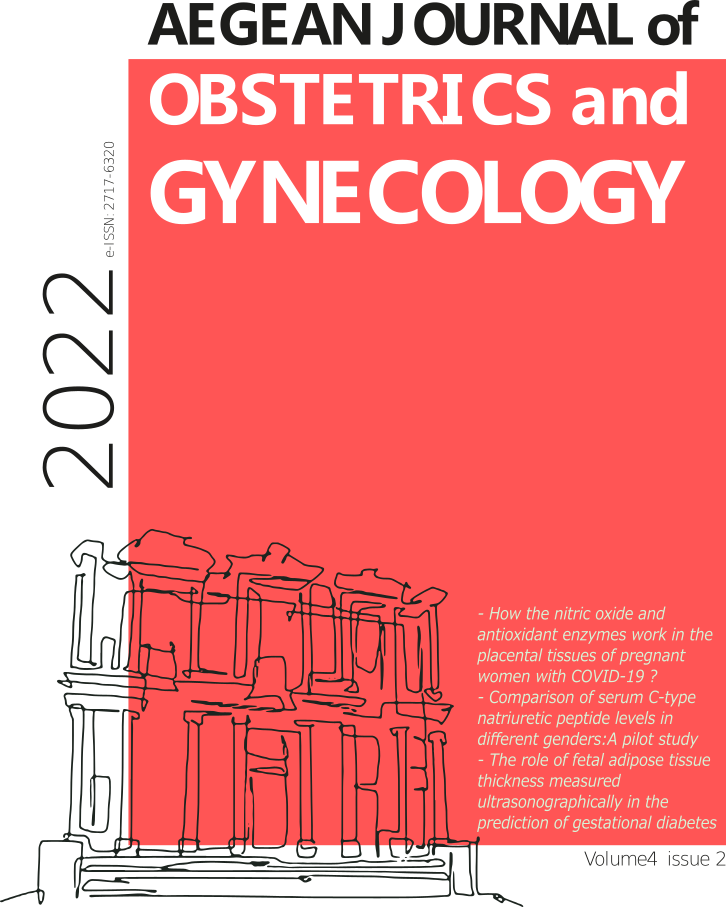 Downloads
How to Cite
1.
Turgut E, Cakir I, Dikiser F, Tuncer K, Teker K. Acute appendicitis in pregnancy; A single center experience : Appendicitis in Pregnancy. Aegean J Obstet Gynecol [Internet]. 2022 Sep. 1 [cited 2023 Feb. 1];4(2):35-8. Available from: https://aejog.com/index.php/aejog/article/view/122
License
Copyright (c) 2022 Emre Turgut, Ilker Cakir, Fatma Dikiser, Korhan Tuncer, Kenan Teker
This work is licensed under a Creative Commons Attribution-NonCommercial 4.0 International License.
AEJOG is an open-access journal which means that through the internet; freely accessible, readable, downloaded, copied, distributed, printed, scanned, linked to full texts, indexed, transferred to the software as data and used for any legal purpose, without financial, legal and technical obstacles. The only authority on reproduction and distribution and the sole copyright role in this field; has been given to authors therefore they can have control over the integrity of their work, so that they are properly recognized and cited. This is in accordance with the BOAI definition of open access.
The content in Aegean Journal of Obstetrics and Gynecology (AEJOG) is protected by copyright. All copyrights of the submitted articles are transferred to the Aegean Journal of Obstetrics and Gynecology within the national and international regulations at the beginning of the evaluation process. Upon submission of their article, authors are requested to complete an assignment of copyright release form. Authors should acknowledge that they will not submit their manuscript to another journal, publish in any other language, or allow a third party to use the article without the written consent of the Aegean Journal of Obstetrics and Gynecology. When an article is published on AEJOG, it is read and reused for free as soon as it is published under a Creative Commons Attribution-NonCommercial 4.0 (CC BY NC 4.0) license. In case the article is rejected, all copyrights are given back to the authors.
The content of the article and all legal proceedings against the journal, if any, are the responsibility of the author. In addition, all financial and legal liability for the copyright of the presented tables, figures and other visual materials protected by law belongs to the authors. It is the responsibility of the corresponding author to report authors scientific contributions and responsibilities regarding the article. In case of any conflict of interest, it is the responsibility of the authors to indicate the conflict of interest in the Disclosure part of the article. Author names will be published as they are listed on the submitted Title page.