Analysis of 300 Total Laparoscopic Hysterectomy Cases Performed by The Same Surgeon
Laparoscopic Hysterectomy Cases Performed by The Same Surgeon
Keywords:
total laparoscopic hysterectomy, complications, uterine weight
Abstract
Aim: This study aimed to evaluate the results of 300 cases of total laparoscopic hysterectomy (TLH) performed by the same surgeon.
Material and methods: During the study period, a total of 300 TLH operations were performed between January 2017 and December 2018. Demographic characteristics, indications of hysterectomy, uterine weights, intra-operative and post-operative complications, duration of the operation, length of hospital stay, blood loss of patients, visual analogue scores and amount of analgesics needed were retrospectively evaluated. Complications were analysed and compared with literature.
Results: Parameters analysed for 300 patients included in the study were as follows: mean age 47.82 ± 6.18 years, mean parity 3.4 ± 2.0 (0–11), BMI 27.41 ± 4.36 (kg/m²), mean uterine weight 367.67 ± 266.21 g (50–1600 g), mean operative time 89.07 ± 37.94 min (30–240 min), mean hospital stay 54.37 ± 21.95 h (24–168 h) and total complication rate 28 (9.3%). Conversion to open surgery was required in 29 (9.7%) patients. The level of technical difficulty and existence of prior abdominal surgery were associated with a higher risk of complications and conversions to laparotomy.
Conclusion: Total laparoscopic hysterectomy is a well-designed surgical procedure for the management of benign gynaecological conditions, and after adequate training, it seems to be a safe and effective procedure for patients.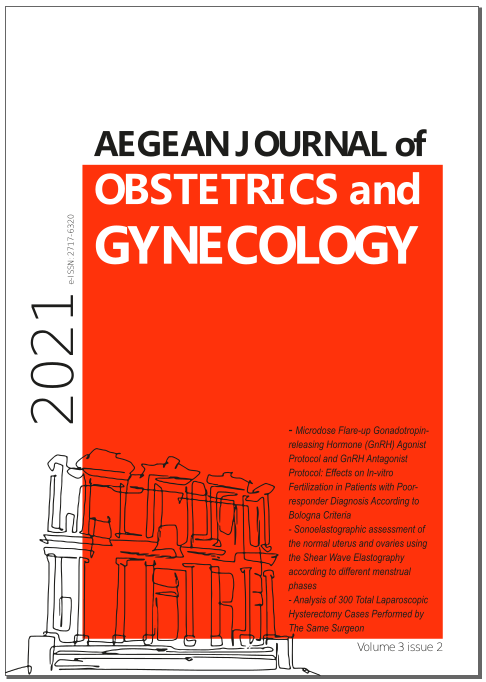 Downloads
How to Cite
1.
Tamburacı E, Mulayim B. Analysis of 300 Total Laparoscopic Hysterectomy Cases Performed by The Same Surgeon: Laparoscopic Hysterectomy Cases Performed by The Same Surgeon. Aegean J Obstet Gynecol [Internet]. 2021 Aug. 23 [cited 2023 Dec. 4];3(2):46-50. Available from: https://aejog.com/index.php/aejog/article/view/88
License
Copyright (c) 2021 Esra Tamburacı, Barış Mulayim
This work is licensed under a Creative Commons Attribution-NonCommercial 4.0 International License.
AEJOG is an open-access journal which means that through the internet; freely accessible, readable, downloaded, copied, distributed, printed, scanned, linked to full texts, indexed, transferred to the software as data and used for any legal purpose, without financial, legal and technical obstacles. The only authority on reproduction and distribution and the sole copyright role in this field; has been given to authors therefore they can have control over the integrity of their work, so that they are properly recognized and cited. This is in accordance with the BOAI definition of open access.
The content in Aegean Journal of Obstetrics and Gynecology (AEJOG) is protected by copyright. All copyrights of the submitted articles are transferred to the Aegean Journal of Obstetrics and Gynecology within the national and international regulations at the beginning of the evaluation process. Upon submission of their article, authors are requested to complete an assignment of copyright release form. Authors should acknowledge that they will not submit their manuscript to another journal, publish in any other language, or allow a third party to use the article without the written consent of the Aegean Journal of Obstetrics and Gynecology. When an article is published on AEJOG, it is read and reused for free as soon as it is published under a Creative Commons Attribution-NonCommercial 4.0 (CC BY NC 4.0) license. In case the article is rejected, all copyrights are given back to the authors.
The content of the article and all legal proceedings against the journal, if any, are the responsibility of the author. In addition, all financial and legal liability for the copyright of the presented tables, figures and other visual materials protected by law belongs to the authors. It is the responsibility of the corresponding author to report authors scientific contributions and responsibilities regarding the article. In case of any conflict of interest, it is the responsibility of the authors to indicate the conflict of interest in the Disclosure part of the article. Author names will be published as they are listed on the submitted Title page.