Evaluations of Pregnancies Diagnosed with Fetal Neural Tube Defects in Our Center
Keywords:
Anencephaly, Congenital Abnormalities, İniencephaly, Nervous System Malformations, Neural Tube Defect.
Abstract
Objective: To evaluate the risk factors, chromosomal abnormalities and additional anomalies of cases diagnosed with fetal neural tube defects (NTDs).
Material and Method: The data of cases diagnosed with fetal NTDs between January 2016 and August 2020 with fetal NTD were retrieved from the hospital database. Only patients whose diagnosis confirmed after pregnancy termination and have a genetic test were included in the study.  The family and antenatal history of patients included maternal age, maternal education level, diabetes mellitus, exposed to teratogenic drugs, smoking, and folic acid intake before or during the first trimester, siblings with a congenital abnormality, consanguinity, and AFP MOMs (alpha-fetoprotein, multiple of median) was obtained. Also, the type and level of NTDs and additional anomalies were noted. The data were evaluated using version 23.0 (SPSS Inc., Chicago, IL, USA).
Results: During the study period, a total of 68 patients who met the study criteria were included in the study. A total of 27 patients diagnosed with spina bifida, 24 patients with anencephaly and 17 patients with encephalocele. The most anomalies resulted from NTDs was hydrocephaly and pes equinovarus. The most detected chromosomal abnormality was trisomy 13 (3 out of 7), and the most additional anomaly was the cleft lip and palate and detected in 4 (5.88%) patients. Pregestational DM was seen in 12/68 of pregnancies with fetal NTD.
Conclusions
The rate of additional anomalies and chromosomal abnormalities in cases diagnosed with fetal NTDs is high. Thus, a detailed ultrasonographic examination and genetic tests of fetuses with NTD is essential. The pregnancies complicated with pregestational DM have an increased risk for fetal NTD.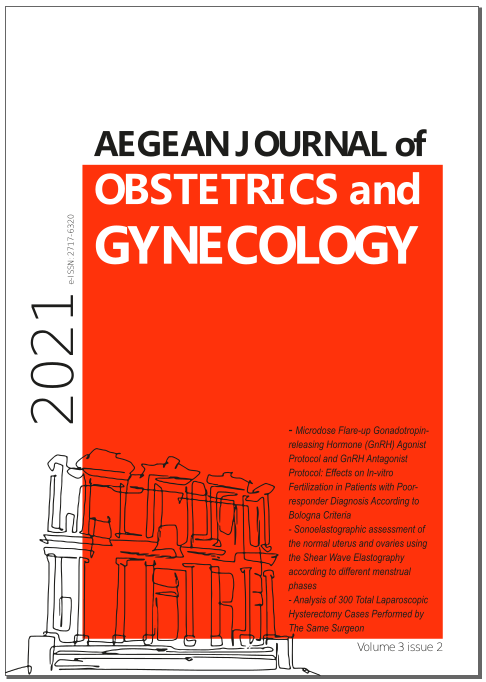 Downloads
How to Cite
1.
Obut M, Yücel Çelik Özge, Kahveci B, Kaya M, Keleş A, Çayönü Kahraman N, Arat Özgür, Çağlar AT. Evaluations of Pregnancies Diagnosed with Fetal Neural Tube Defects in Our Center. Aegean J Obstet Gynecol [Internet]. 2021 Aug. 23 [cited 2023 Dec. 4];3(2):36-40. Available from: https://aejog.com/index.php/aejog/article/view/85
License
Copyright (c) 2021 Mehmet Obut, Özge Yücel Çelik, Bekir Kahveci, Mehmet Kaya, Ayşe Keleş, Neval Çayönü Kahraman, Özgür Arat, Ali Turhan Çağlar
This work is licensed under a Creative Commons Attribution-NonCommercial 4.0 International License.
AEJOG is an open-access journal which means that through the internet; freely accessible, readable, downloaded, copied, distributed, printed, scanned, linked to full texts, indexed, transferred to the software as data and used for any legal purpose, without financial, legal and technical obstacles. The only authority on reproduction and distribution and the sole copyright role in this field; has been given to authors therefore they can have control over the integrity of their work, so that they are properly recognized and cited. This is in accordance with the BOAI definition of open access.
The content in Aegean Journal of Obstetrics and Gynecology (AEJOG) is protected by copyright. All copyrights of the submitted articles are transferred to the Aegean Journal of Obstetrics and Gynecology within the national and international regulations at the beginning of the evaluation process. Upon submission of their article, authors are requested to complete an assignment of copyright release form. Authors should acknowledge that they will not submit their manuscript to another journal, publish in any other language, or allow a third party to use the article without the written consent of the Aegean Journal of Obstetrics and Gynecology. When an article is published on AEJOG, it is read and reused for free as soon as it is published under a Creative Commons Attribution-NonCommercial 4.0 (CC BY NC 4.0) license. In case the article is rejected, all copyrights are given back to the authors.
The content of the article and all legal proceedings against the journal, if any, are the responsibility of the author. In addition, all financial and legal liability for the copyright of the presented tables, figures and other visual materials protected by law belongs to the authors. It is the responsibility of the corresponding author to report authors scientific contributions and responsibilities regarding the article. In case of any conflict of interest, it is the responsibility of the authors to indicate the conflict of interest in the Disclosure part of the article. Author names will be published as they are listed on the submitted Title page.