Sonoelastographic assessment of the normal uterus and ovaries using the Shear Wave Elastography according to different menstrual phases
Keywords:
Myometrium, Share Wave Elastography, ovary, menstrual phases, uterus
Abstract
Objective: In most of the gynecological studies conducted using the Shear Wave Elastography (SWE) method in the literature, the menstrual cycle period was not taken into account. Current study, we aimed to describe the sonoelastographic features of normal myometrium and ovaries in healthy women and to define their variability during the different phases of the menstrual cycle using the SWE method.
Material and methods: All cases were selected from individuals between the ages of 24-31, with regular menstrual cycles and no systemic disease. Each case was called in, 1-5th, 12-16th, 21-24th day of their menstrual cycles and was evaluated by B-mode imaging and SWE in pelvic ultrasonography. The relationship of menstrual phases with uterine and ovarian elasticity was investigated by comparing all measurements made in different menstrual phases.
Results: No statistically significant difference was observed between the volume of right and left ovaries in terms (p> 0.05). There was no statistically significant difference in terms of elastography measurements obtained from the uterus, right and left ovaries for each menstrual phase according to Bonferroni Correction (p> 0.0163).
Conclusion: Although there was a slight decrease in myometrial SWE measurements in the follicular phase, there was no significant difference regarding the SWE measurements of uterus and ovaries in early follicular, peri-ovulatory, and luteal menstrual stages. Further studies with a large number of participants are needed to suggest whether gynecological studies planned to be carried out with the shear wave elastography method should be planned in a specific menstrual phase.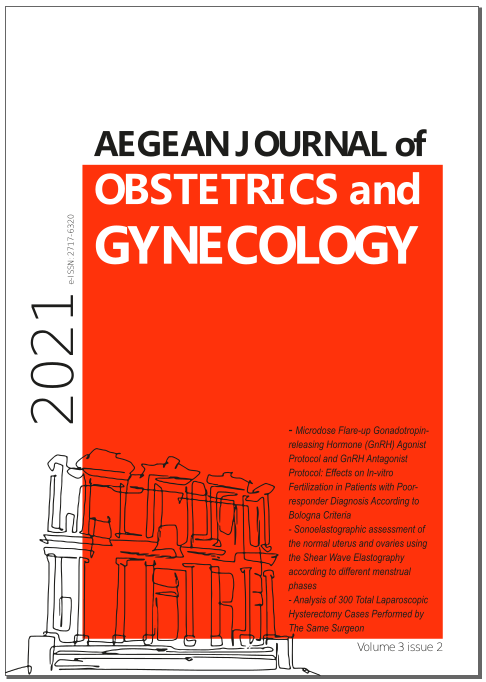 Downloads
How to Cite
1.
Turan Özgür, Ertekin E, Abdullayev O, Kuh B. Sonoelastographic assessment of the normal uterus and ovaries using the Shear Wave Elastography according to different menstrual phases. Aegean J Obstet Gynecol [Internet]. 2021 Aug. 23 [cited 2023 Dec. 4];3(2):55-8. Available from: https://aejog.com/index.php/aejog/article/view/90
License
Copyright (c) 2021 Özgür Turan, Ersen Ertekin, Oghuz Abdullayev, Behram Kuh
This work is licensed under a Creative Commons Attribution-NonCommercial 4.0 International License.
AEJOG is an open-access journal which means that through the internet; freely accessible, readable, downloaded, copied, distributed, printed, scanned, linked to full texts, indexed, transferred to the software as data and used for any legal purpose, without financial, legal and technical obstacles. The only authority on reproduction and distribution and the sole copyright role in this field; has been given to authors therefore they can have control over the integrity of their work, so that they are properly recognized and cited. This is in accordance with the BOAI definition of open access.
The content in Aegean Journal of Obstetrics and Gynecology (AEJOG) is protected by copyright. All copyrights of the submitted articles are transferred to the Aegean Journal of Obstetrics and Gynecology within the national and international regulations at the beginning of the evaluation process. Upon submission of their article, authors are requested to complete an assignment of copyright release form. Authors should acknowledge that they will not submit their manuscript to another journal, publish in any other language, or allow a third party to use the article without the written consent of the Aegean Journal of Obstetrics and Gynecology. When an article is published on AEJOG, it is read and reused for free as soon as it is published under a Creative Commons Attribution-NonCommercial 4.0 (CC BY NC 4.0) license. In case the article is rejected, all copyrights are given back to the authors.
The content of the article and all legal proceedings against the journal, if any, are the responsibility of the author. In addition, all financial and legal liability for the copyright of the presented tables, figures and other visual materials protected by law belongs to the authors. It is the responsibility of the corresponding author to report authors scientific contributions and responsibilities regarding the article. In case of any conflict of interest, it is the responsibility of the authors to indicate the conflict of interest in the Disclosure part of the article. Author names will be published as they are listed on the submitted Title page.