Cervical Insufficiency and Cerclage Treatment of Pregnant Syrian Refugees
Keywords:
syrian refugee, migration, cervical insufficiency, cerclage
Abstract
Objective: We aimed to evaluate the cervical cerclage treatment among the Syrian refugees with cervical insufficiency.
Material and Methods: Retrospective data of 42 Syrian pregnant women who had cervical cerclage suture due to cervical insufficiency between 2015 and 2017 scanned and analyzed with SPSS 22.
Results: The mean age of the cases included in the study was 27.4±6.8. 12 cases (28.6%) had spontaneous pregnancy losses twice in the 2nd trimester. 24 cases (57.1%) gave birth via spontaneous vaginal delivery, whereas 18 cases (42.9%) gave birth via cesarean section. A statistically significant difference was determined between pre-cerclage and post-cerclage cervical length. Whilst no difference was detected in pre-cerclage cervical length for deliveries at week 37, a significant difference was detected in post-cerclage length.
Conclusıon: Increased miscarriages and second-trimester pregnancy losses seen in the first years of the war especially due to the use of chemical weapons and the stress suffered thereafter as well as the increased reproductive interest after the war bring together a greater desire for a healthy pregnancy and delivery. We believe that cervical-length measurement using transvaginal sonography during post-cerclage checks is important and that measurement of a cervical length equal to or above 30 mm may increase the probability of term delivery and decrease maternal, and most importantly, neonatal complications associated with preterm labor.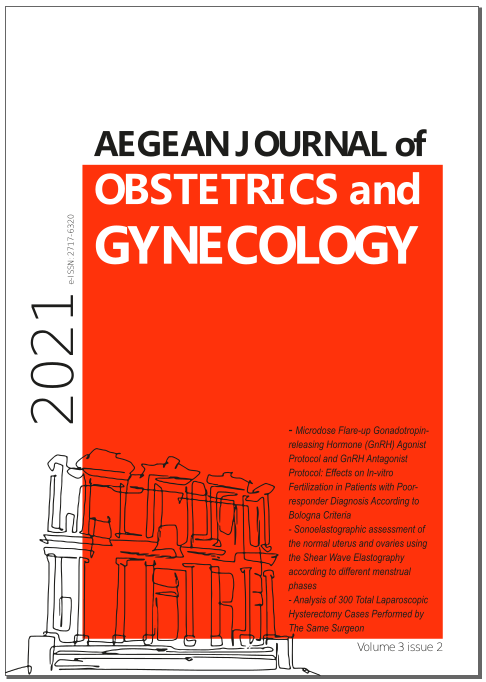 Downloads
How to Cite
1.
Kayar İlkan, Serin AN, Birge Özer. Cervical Insufficiency and Cerclage Treatment of Pregnant Syrian Refugees. Aegean J Obstet Gynecol [Internet]. 2021 Aug. 23 [cited 2023 Dec. 4];3(2):41-5. Available from: https://aejog.com/index.php/aejog/article/view/87
License
Copyright (c) 2021 İlkan Kayar, Aliye Nigar Serin, Özer Birge
This work is licensed under a Creative Commons Attribution-NonCommercial 4.0 International License.
AEJOG is an open-access journal which means that through the internet; freely accessible, readable, downloaded, copied, distributed, printed, scanned, linked to full texts, indexed, transferred to the software as data and used for any legal purpose, without financial, legal and technical obstacles. The only authority on reproduction and distribution and the sole copyright role in this field; has been given to authors therefore they can have control over the integrity of their work, so that they are properly recognized and cited. This is in accordance with the BOAI definition of open access.
The content in Aegean Journal of Obstetrics and Gynecology (AEJOG) is protected by copyright. All copyrights of the submitted articles are transferred to the Aegean Journal of Obstetrics and Gynecology within the national and international regulations at the beginning of the evaluation process. Upon submission of their article, authors are requested to complete an assignment of copyright release form. Authors should acknowledge that they will not submit their manuscript to another journal, publish in any other language, or allow a third party to use the article without the written consent of the Aegean Journal of Obstetrics and Gynecology. When an article is published on AEJOG, it is read and reused for free as soon as it is published under a Creative Commons Attribution-NonCommercial 4.0 (CC BY NC 4.0) license. In case the article is rejected, all copyrights are given back to the authors.
The content of the article and all legal proceedings against the journal, if any, are the responsibility of the author. In addition, all financial and legal liability for the copyright of the presented tables, figures and other visual materials protected by law belongs to the authors. It is the responsibility of the corresponding author to report authors scientific contributions and responsibilities regarding the article. In case of any conflict of interest, it is the responsibility of the authors to indicate the conflict of interest in the Disclosure part of the article. Author names will be published as they are listed on the submitted Title page.